Simple CBD Pumpkin Muffin Recipe
CBD Pumpkin muffins topped with a brown sugar crumble and maple cinnamon glaze.


My favorite part of fall is all the tasty pumpkin treats I get to bake and enjoy as I get lost staring at all the changing colors. I discovered how CBD helped my scoliosis and have been so grateful to promote CBD's wellness into my daily lifestyle. The tinctures have been awesome but I recently discovered Nano Emulsified Water Soluble cbd and ever since; I have been making smoothies, frappe's, and even baking with CBD! Yummm! Most people thinks you can add CBD to your food and drinks but if it's not Water Soluble then it isn't nearly as bioavailable as you may think. At most, only 20 percent of the CBD ends up being absorbed! Yet when swallowed, Water Soluble CBD is up to 5 times more bioavailable than traditional CBD! So if you cook or make drinks with CBD use Nano Emulsified Water Soluble CBD so you don't waste any more money! Today I made the tastiest little treats of the season. I don't think I'll be able to beat the flavor of these mouth watering packs of trouble makers. The way the flavors roll from sweet pumpkin, to cinnamon, clove, and nutmeg, then finishes with a creamy sweet maple buttery flavor. Ughh, to die for! I love that I can have a little treat with my CBD and not worry about the CBD being wasted. Please let me know what you think about these amazing fall surprises.



Everything Tastes better with Water Soluble CBD!
These muffins are super simple to make and they don't require a lot of dishes to up clean afterwards!

1. The muffins are not overly sweet. They can be enjoyed as a Breakfast, a snack or a dessert. They do not require a mixer and are super easy to mix with a spatula.
2. The Brown sugar crumble adds a buttery and sweet flavor to these muffins. The crumble topping is totally optional but I highly recommend this add-on!
3. The Icing is a great addition to the CBD pumpkin muffins as well. It provides a sweet, creamy and festive flavor by seeping down into the brown sugar crumble. Mmmmmmmm, these are soooo good!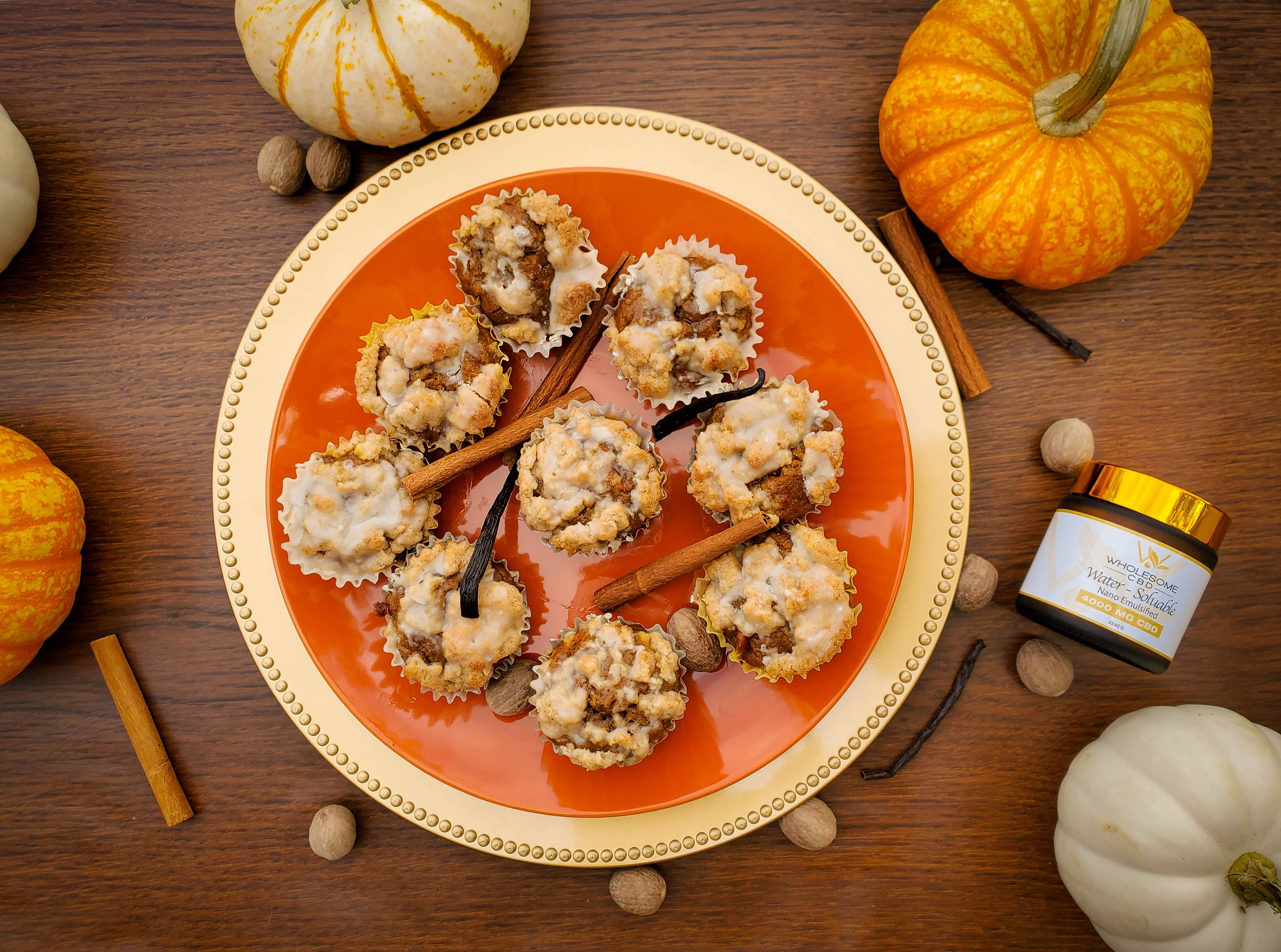 ---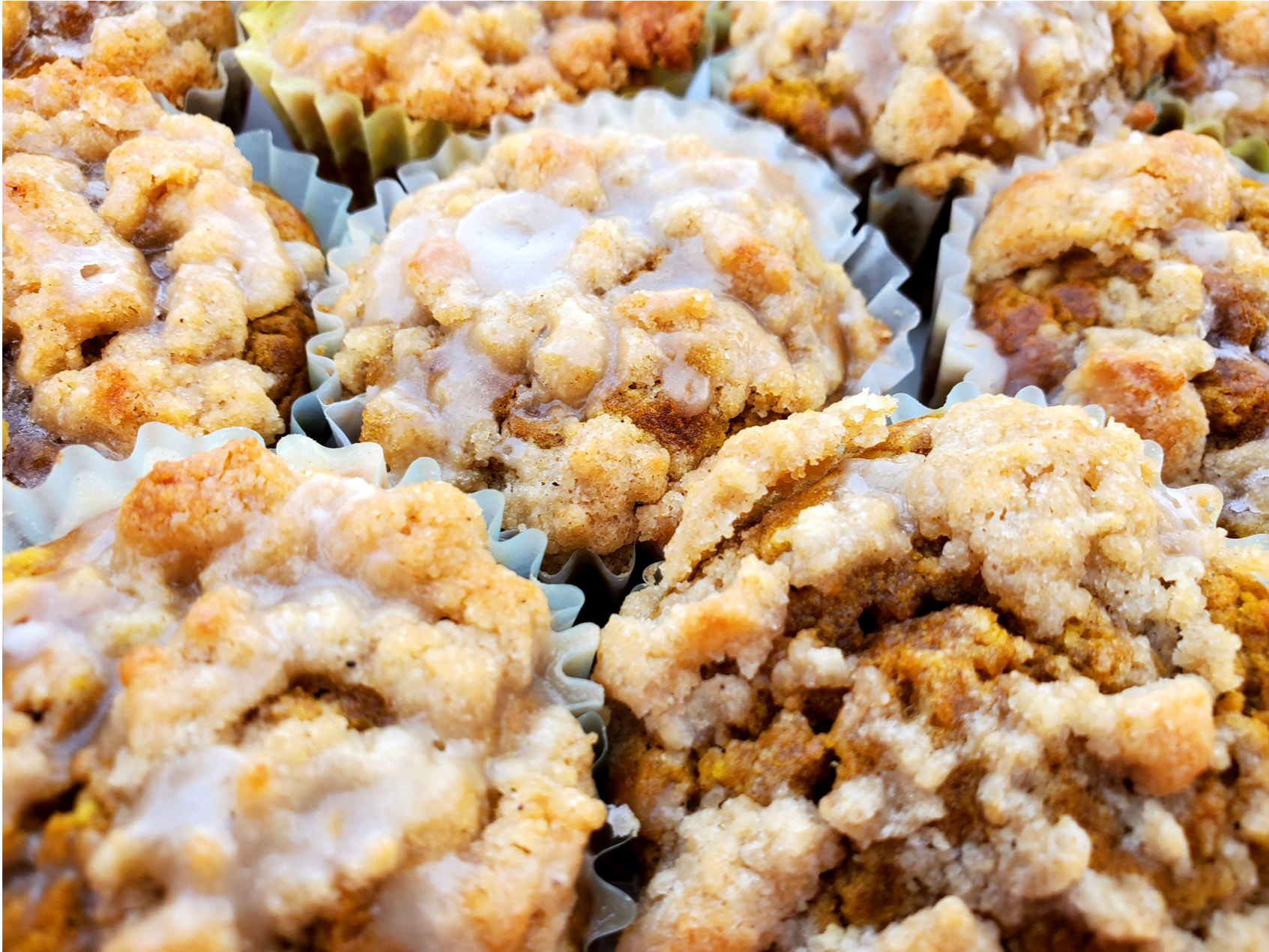 CBD Pumpkin Muffin Recipe
Prep Time: 15 Minutes
Cook time: 21 Minutes
Yields: 16 Muffins (Each muffin has 25mg of CBD)
---
CBD Pumpkin muffins topped with a brown sugar crumble and maple cinnamon glaze.
---
For The Muffins:
1/2 cup of sugar
1/2 cup of Brown Sugar  
1 and 1/2 Cups of Pumpkin Puree
2 Teaspoons of Water-Soluble CBD (each muffin gets 25mg, add more if desired)
2 Large Eggs (Room Temperature)
1/4 Cup of Milk (Room Temperature)  
1/2 Cup of Vegetable Oil or Canola Oil
2 Teaspoons of Vanilla
1/2 Teaspoon of Salt  
1 Teaspoon Pumpkin Pie Spice
2 and 1/2 Teaspoons of Cinnamon
1 Teaspoon of Baking Soda
1 and 3/4 Cups of All Purpose Flour
For The Brown Sugar Crumble:
1/4 Cup of Brown Sugar
1/4 Cup of Granulated Sugar
3/4 Cup of All Purpose Flour
1 Teaspoon of Pumpkin Pie Spice
6 Tablespoons of Butter  
1 Teaspoon of Vanilla
For The Maple Cinnamon Glaze:
1 and 1/2 Cups Powdered Sugar
2 Tablespoons Milk
2 Tablespoons Maple Syrup  
2 Teaspoons Vanilla
1 Teaspoon Cinnamon
---
1. First things first, pre-heat your oven to 425F.
2. Fill your muffin tray with your favorite cupcake liners. This recipe makes 16 muffins so prepare a second muffin tray or use the same pan twice.
3. Make The Crumble: Mix the brown sugar, granulated sugar, flour, pumpkin pie spice and vanilla. *** SLOWLY pour the butter onto this mixture while mixing with a fork. Don't over mix - the desired consistency here is crumble (small ball like formations with this mixture). Once complete, set aside.
4. Make The Muffins: In one bowl mix - brown sugar, granulated sugar, eggs, milk, oil and pumpkin puree. In your second bowl, mix - flour, pumpkin pie spice, CBD (water-soluble CBD), cinnamon and salt. Next, fold your wet ingredients into your dry ingredients. Mix well!
5. Get Ready to Bake: Spoon your tasty batter into your prepped muffin tray. Place the brown sugar crumble on top of the batter. These babies are ready to go in the oven!
6. Bake: Place your muffin tray(s) in the oven for 5 minutes at 425F. After 5 minutes, lower the oven temperature to 350F and cook for another 16 minutes. This helps to crisp the brown sugar crumble while not allowing the muffin to dry out.
7. The Glaze: Prepare the glaze while the muffins are cooking. Mix - powdered sugar, milk, maple syrup, vanilla and cinnamon in a bowl.
I recommend adding the glaze to the muffins right when you take them out of the oven. This allows the glaze too seep into all the cracks and provide a delicious flavor all throughout the muffins.
8. Enjoy!
---
---
Be the first to get the upcoming CBD recipes!